Efficiency and intelligence
Service, efficient application capabilities for users to greatly improve processing efficiency
1. Datan efficiently applies the database to summarize the company's more than 50 years of milling technology
2. Datan efficient application professional technical team, perennial in the company to do all kinds of process tests and report technical solutions to users
3. After-sales service personnel have undergone efficient application training to ensure efficient processing for users
Hardware + software + application → efficient processing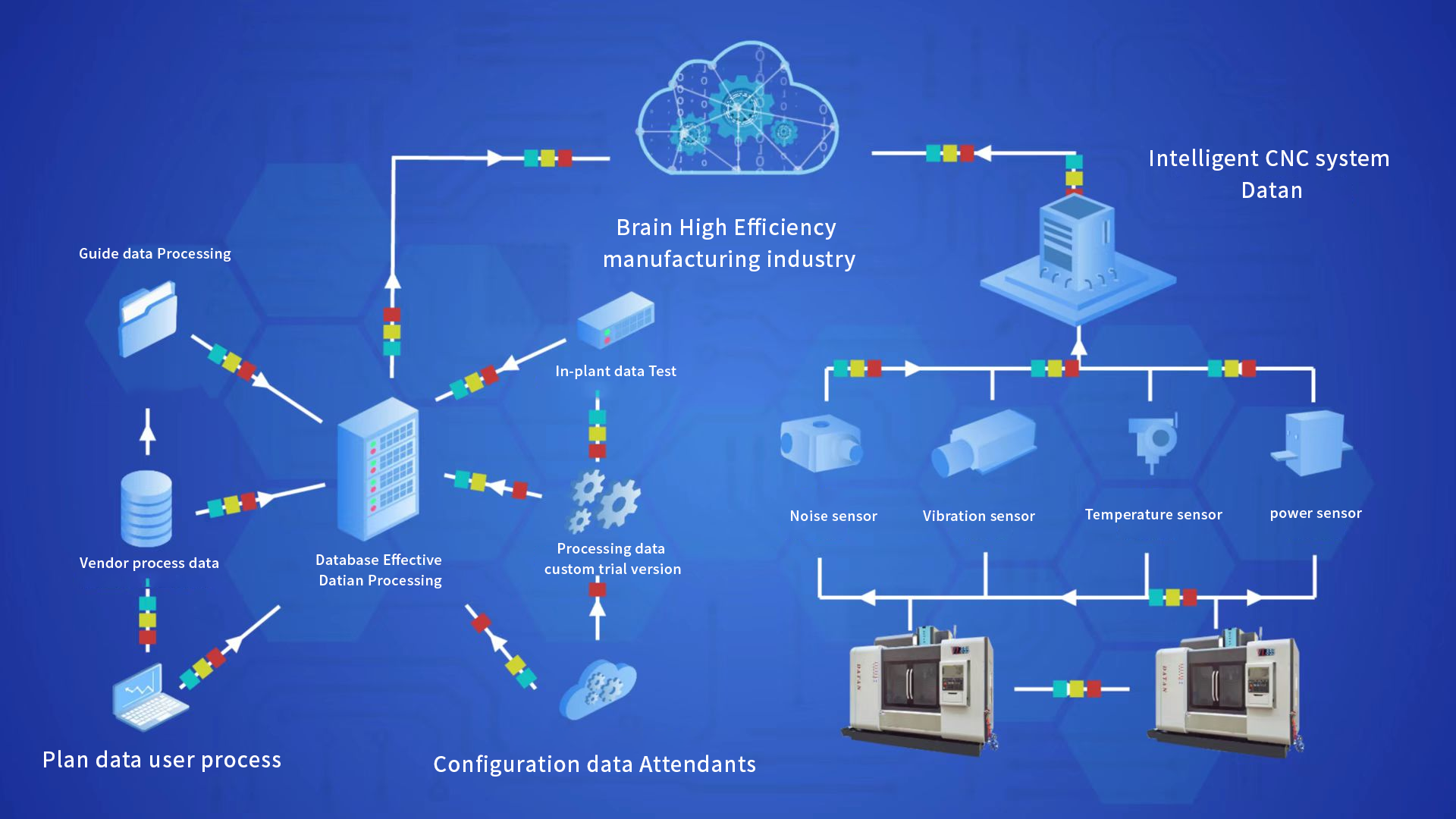 Efficiency and intelligence
Intelligent manufacturing and artificial intelligence is the main battlefield of Sino-US competition in the field of science and technology, Hangzhou Datan cnc has more than 50 years of rich experience in machine tool design and use, and is developing a CNC machining knowledge base to carry out flexible composite innovation on the basic process of CNC machining. The self-detection, self-analysis, self-optimization, adaptive intelligent and efficient processing technology being developed promotes the deep integration of medium and high-end CNC machine tools and artificial intelligence technology.
The intelligent brain of flexible CNC machine tools is composed of data resource system and application support system, using cloud computing, big data, artificial intelligence, mobile Internet, 5G and other new generation information technology, innovative research and development of CNC machine tools into CNC data collection and storage, query CNC machining database, human-computer interaction expert system, machine learning process optimization system, and self-detection, self-analysis, self-optimization adaptive intelligent and efficient processing technology with independent intellectual property rights. International advanced flexible composite intelligent technology system and equipment in the field of large day control subdivision.
Datian intelligent machine tool has an intelligent decision-making system of processing technology, through the intelligent analysis and identification of parts characteristics, decision-making excellent process methods, and proposes feature-based adaptive methods to ensure the speed and acceleration of processing trajectory smooth and continuous.
Datian intelligent machine tool has a human-computer interaction expert system for CNC machine tool processing, providing users with process technology solutions and improving the processing efficiency of machine tools.
Through a large amount of cutting data input, Datian intelligent machine tool conducts big data analysis and machine learning, finds excellent process solutions and cutting parameters for efficient processing, and develops and forms a process optimization system for CNC cutting.
Dataian intelligent machine tool is the integration of artificial intelligence and flexible manufacturing equipment, powerful machining center, efficient drilling center and other machine tools to form a high-end intelligent CNC machine tool with depth perception, intelligent decision-making and automatic execution, research the digital new manufacturing of machine tool hardware, software and service, and promote the international advanced flexible composite system
Datan intelligent and efficient technology
◆ Gantry drilling intelligent function
Optimization 1: Intelligent drilling automatic chip breaking invention patent, improve drilling efficiency Optimization 2: Intelligent drilling automatic chip removal invention patent, improve the drilling depth of U drilling Optimization 3: The processing path is stacked to shorten the processing time Optimization 4: Software architecture processing shortens the processing time of multiple holes
◆ Gantry milling and boring intelligent adaptive feed technology
Optimization-: Start and end adaptive feed, improve milling smoothness, improve milling efficiency. Optimization 2: There is adaptive adjustment of load change in the middle of milling and boring to achieve efficient milling and boring
◆ Gantry machine tool high rigidity mechanism innovation
Optimization 1: Door-back small gantry mechanism innovation, finite element analysis and optimization optimization 2: curved back gantry structure, ultra-short throat moaning, square ram high rigidity effectively improve the machine tool to improve the overall rigidity of the machine tool.
◆ Gantry high-efficiency process technology innovation
Optimization-: Datan has dozens of types of machine tool efficient processing data to choose from applications Optimization 2: Efficient milling and boring process increases efficiency by 15-30% Optimization 3: Efficient drilling process improves efficiency by 15 to 30%

Datan CNC's main products or services: high-speed and high-precision machining center, five-axis Simultaneously controllable machining center, functional complex machining center, flexible manufacturing units, Hardware, software and service providers for R&D and production of high-end and mid-to-high-end CNC machine tools.
Contact Details
E-mail:tyler@hzdtsk.com
Address: Lin Pu high tech Development zone of xiaoshan District of Hangzhou city in Zhejiang province China
---